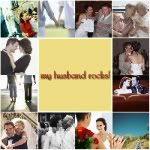 I'm starting something new.
My Husband Rocks!
is a blogging prompt that Katy Lin at
the great adventure
posts every Friday. I'm going to give it a whirl. I plan to continue it through the
30-Day Husband Encouragement Challenge
and I'll see how it goes from there
My Husband Rocks! for Friday, February 6, 2009
1. Tell us about some of the things that you and your husband do to just have fun together.
We never seem to make time to have fun together. It's easy to fall into the trap of busyness. I plan to make more time this coming week.
There are a few shows on TV that we enjoy to watch together. Lost and Leverage are favorites right now.
We love to play Lost Cities. We haven't played since Maui.
Honestly we need to work on fun.
2. Tell the story of a memory about your husband that brings you a smile and a giggle every time you think about it.
When we were dating, before we were going steady or whatever you'd call it, we were at a park and he started singing songs to me. The songs were sweet and the lyrics spoke of things he was having difficulty saying himself; "My Girl" and "Don't Sit Under the Apple Tree". At least it wasn't a song like "I Want Your Sex".
3. Give us your best, most creative Valentine's Day gifts
This is a cookie bouquet that I made Surferman a few years ago. I made cut out sugar cookies and baked lollipop sticks into them for stems. Bright pink icing made them even sweeter. I had a friend deliver them to him at work. He shared them all around. It was a very successful gift.
I have also sent him a singing cookie gram. A community senior citzens singing group delivered a giant chocolate chip cookie to Surferman at work. Can you imagine four old ladies dressed the same showing up at his work? They sang, "You are my sunshine" in four part harmony while Surferman turned every shade of red. Not something I'd do again. I didn't think about the embarassing factor.
This year I'm making
this book
for Surferman. I'm about halfway done. I'll post about it more when I get it done. Good thing he doesn't read my blog or the surprise would be spoiled.