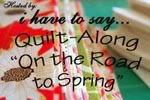 Randi at
i have to say
is hosting a fun quilt along called "On the Road to Spring". I missed posting for week 1 (selecting fabrics). It's week 2 now and we are started cutting our pieces this week. If you've ever wanted to make a quilt, this is a great way to give it a go. I'm using it for motivation. I need to keep up... right? It's not too late to join.
Here's the quilt we are going to make...
Here's the fabrics I'm using...
They are
not
my usual colors. Not a drop of orange anywhere.
My computer monitor isn't doing the colors justice.
Think dark brown, turquoise/teal blue, dark green and acidy yellowgreen.
I like all the fabrics except for the one second to the right in the above picture of close ups.
I'm afraid it's too light compared to the others. Opinions?
This
fabric is my "neutral" for the squares that separate all the rectangles.
I'm supposed to have all this fabric cut up and be ready to start sewing soon. I also need to clean up my studio so I can get my sewing machine set up. Better get at it.
May this be the beginning of a lot of sewing.