On Sunday I posted my
Friday Fave Five
for last week.
I guess I shouldn't write after long road trips because I managed to forget a bunch of my truly favorite things from last week. All way better than my Chuck sneakers!
Surferman and I had an overnight away together! What could be better than that?
Here's what should've been included...
1. A beautiful and plush room at the
Cambria Pines Lodge
complete with fireplaces, jet tub and anything we could need or want. Our stay was a gift for my birthday... a very generous and welcome gift.
2. The excitement and uncertainty of a
power outage
. We had power until early the next morning. We didn't have a lot of candles, but wouldn't that have been even more romantic?
3. Our stay included dinner (I had a juicy and on plan
filet mignon
and steamed broccoli). It was delicious. We expected breakfast the next morning, but due to the power outage I thought we'd miss out... well Surferman would miss out. I was wrong. We had a nice candlelight breakfast before we drove home and I was off to work.
Since I really like my Chucks, I guess I had 8 favorites last week.
We took some silly pictures... actually I took them and Surferman was gracious enough to pose for me so you could see our beautiful accomodations.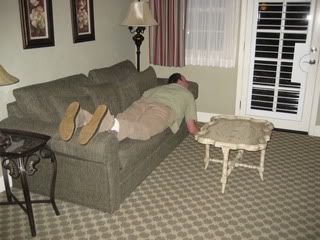 Surferman was really tired from the super long drive.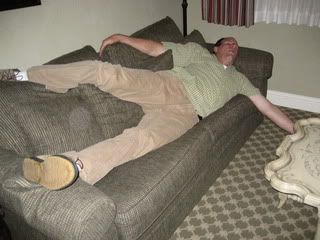 He had a little trouble getting comfortable on the short sofa.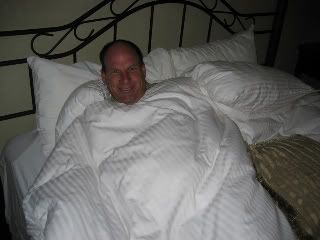 so he moved to the bed.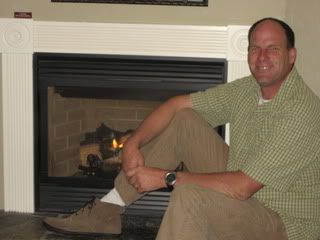 Here's his GQ pose by the fireplace.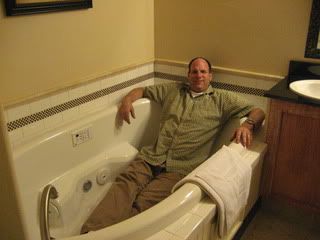 The tub was plenty long, but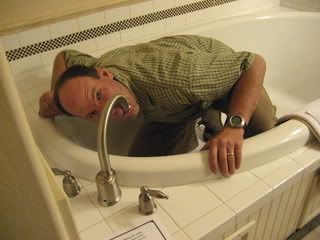 he got thirsty before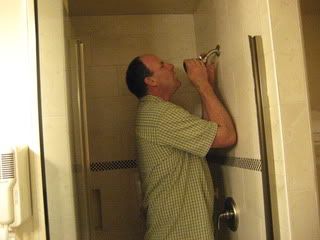 practicing for his American Idol audition.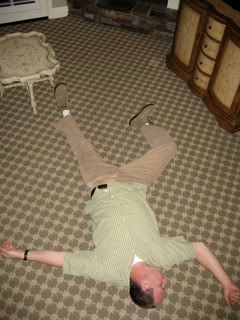 His crime scene photo.
I think he was trying to decide if he wanted to risk turning on the TV.
He decided against it. Smart man.
I hope you can tell we had a great time.