I DID IT!
Here's my wrap up and entry into the contest. I apologize for the photographs. The room is small and it's hard to get great pictures. The best light is probably first thing in the morning and I was at work.
BEFORE PHOTOS

looking in from the door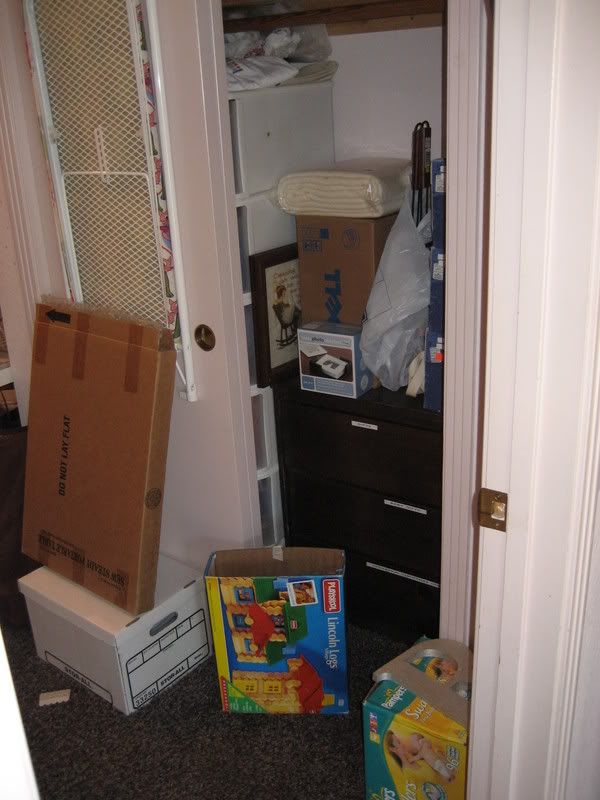 the closet



work area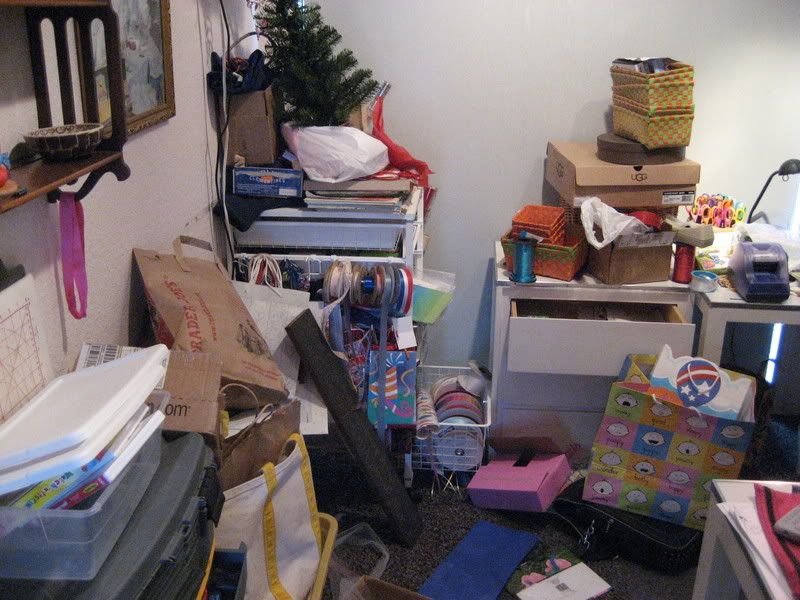 wrapping cart, sewing cart and lots of mess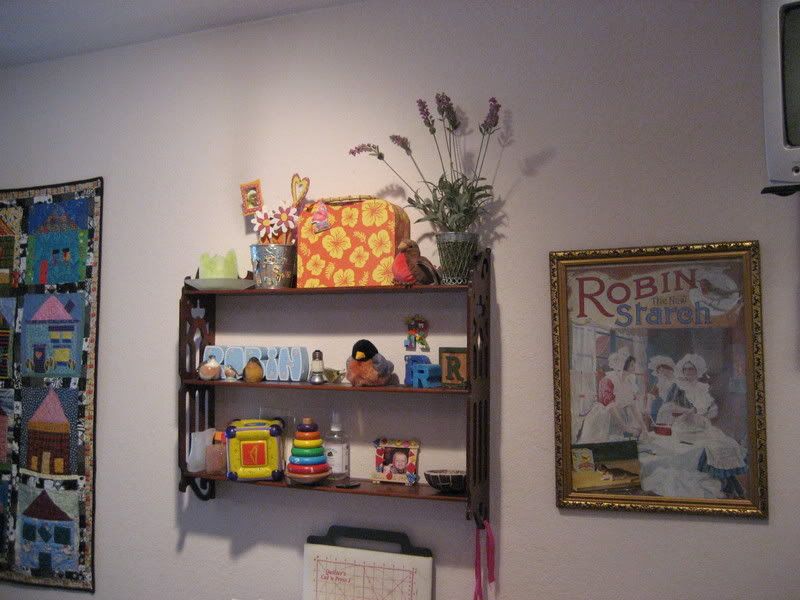 knick knack shelf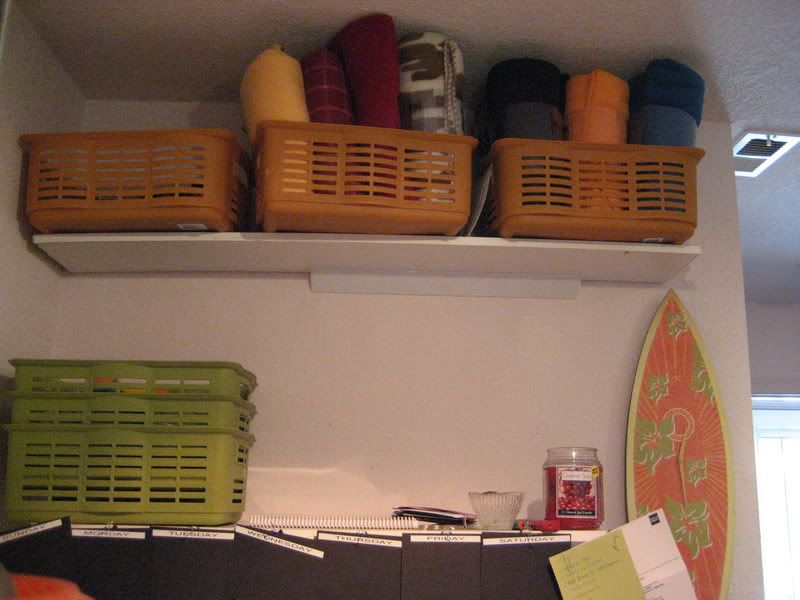 shelf above work desk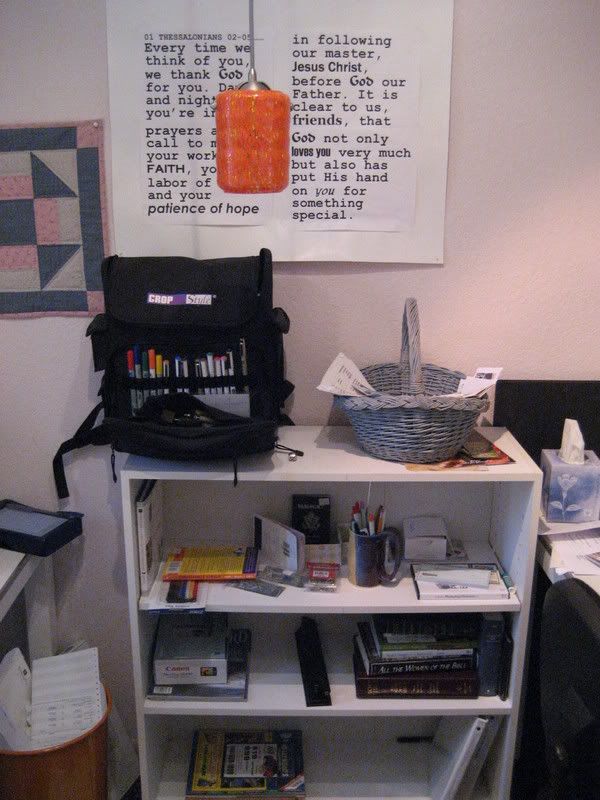 bookshelf in work area



closet

1. What was the hardest part of the challenge for you and were you able to overcome it?
There was so much stuff. I was very discouraged and felt like I didn't have enough time to get it done. Our weekends are pretty full. We had to be diligent to find the time to clear the room, paint and then move some of the stuff back in.
2. Tell us what kind of changes/habits you have put into place in order for your area/room to maintain its new order?
Everything has a place.
If it doensn't have a place, does it belong here? Where should it go?
I make sure things are put away when I leave my space. No more empty coffee cups left behind.

3. What did you do with the "stuff" you were able to purge out of your newly organized space?
The toys were relocated to Grom's bedroom and toy shelves.
3 big boxes went to a thrift store.
I returned things to people.
I gave my mom back a lot of things that she gave me that I never really wanted.
I had to make some hard decisions. I'm a quilter with many UFOs (unfinished objects). I gave five projects up, knowing that I don't want to finish them.
4. What was the biggest lesson you learned from this experience?
The time limit of the challenge was very motivating. I developed a "just do it" attitude in order to meet the deadline.
Sweeping the room clean of everything was also very helpful. I was very thoughtful of what was coming back into the room.
5. Now that you have completed the
PROCESS
, do you think having and keeping your space organized will make a difference in your life?
It already has. My room makes me happy. I look forward to the time I'm able to spend in it. My sewing machine was out. I can't remember the last time it was. My projects are organized, I know what I have and look forward to completing some projects.
AFTER PHOTOS

scrapping area, bookshelf and knick knack shelf


work desk



wall above work desk - this just makes me happy - exactly what I wanted!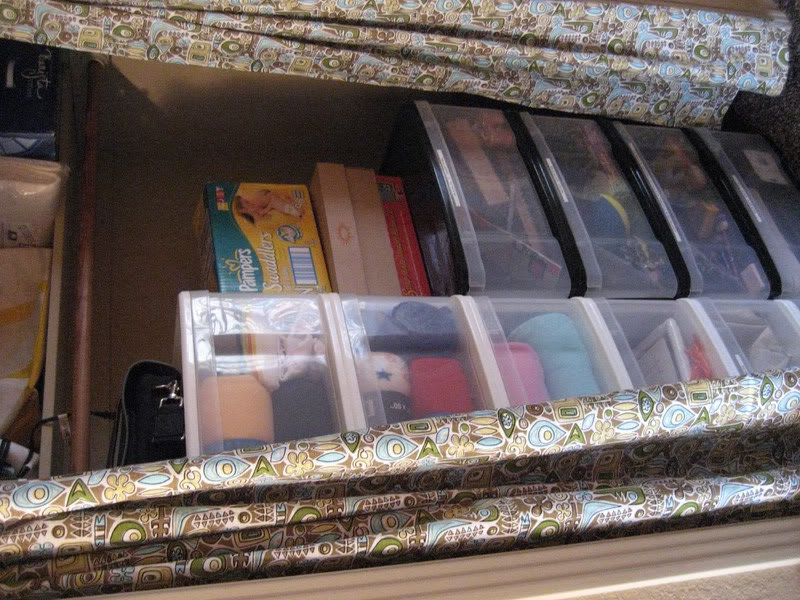 closet - doors removed - curtains added



closeup of gift drawers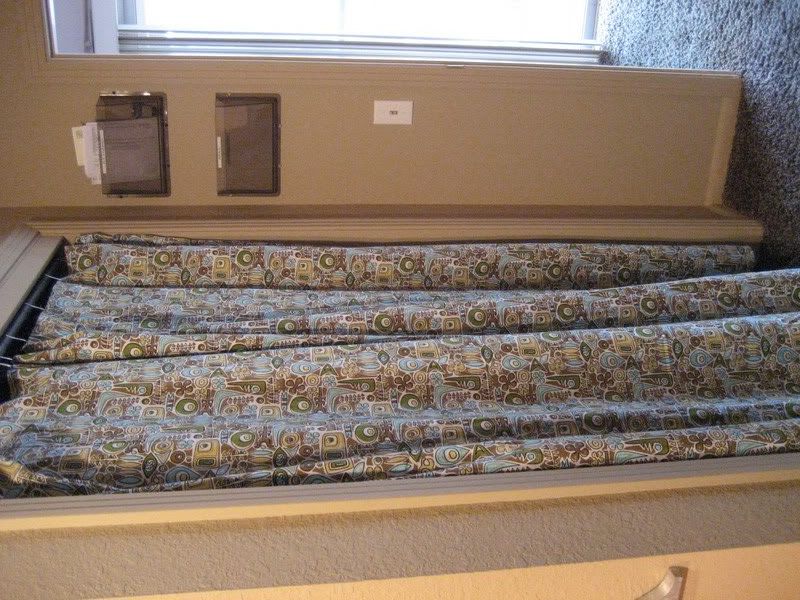 closet curtains closed - "mail" and "at hand" by entrance door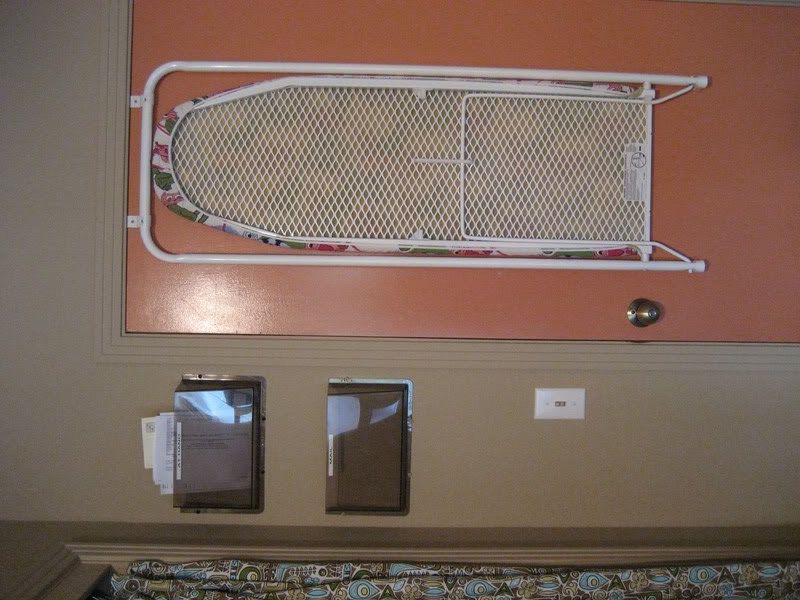 relocated ironing board - new painted orange door



my custom upholstered brick door stop



baskets on shelves about work desk



shelves above work desk - closeup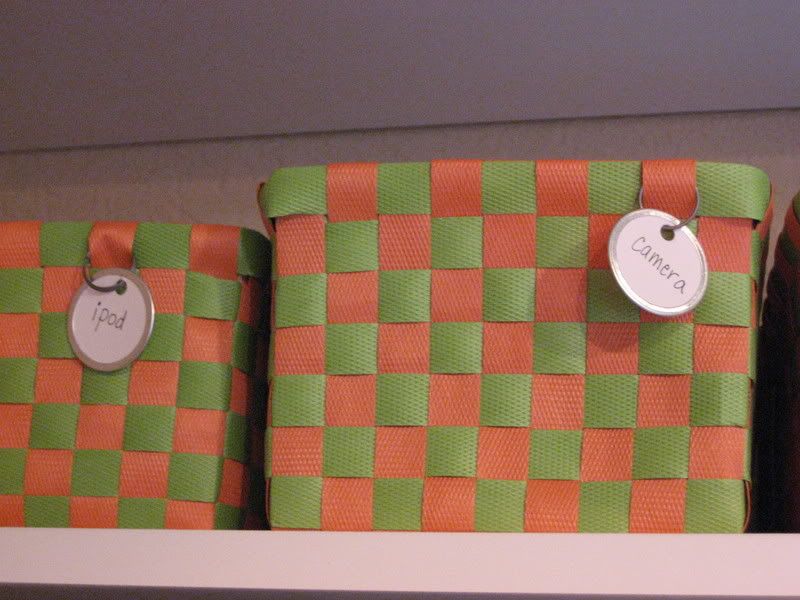 shelves above desk - closer up - I love the key tag labels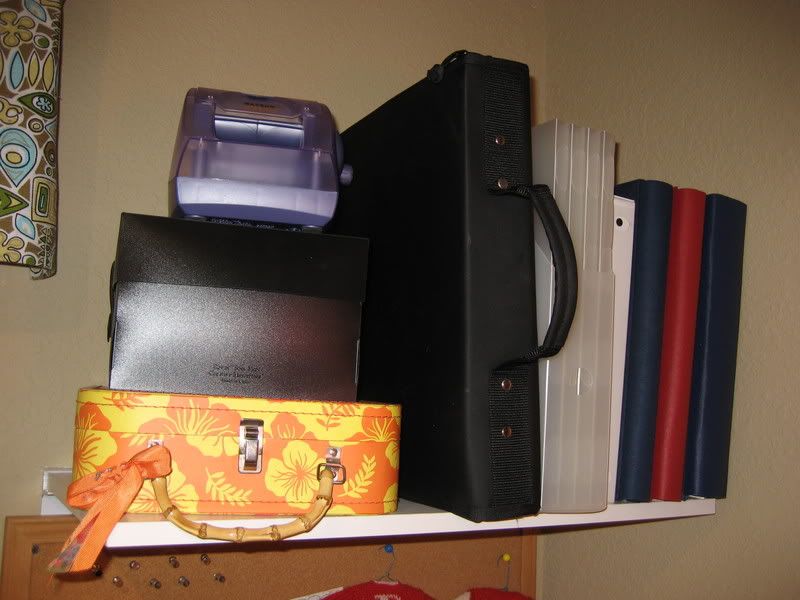 scrapbooking stuff on shelf above scrapping table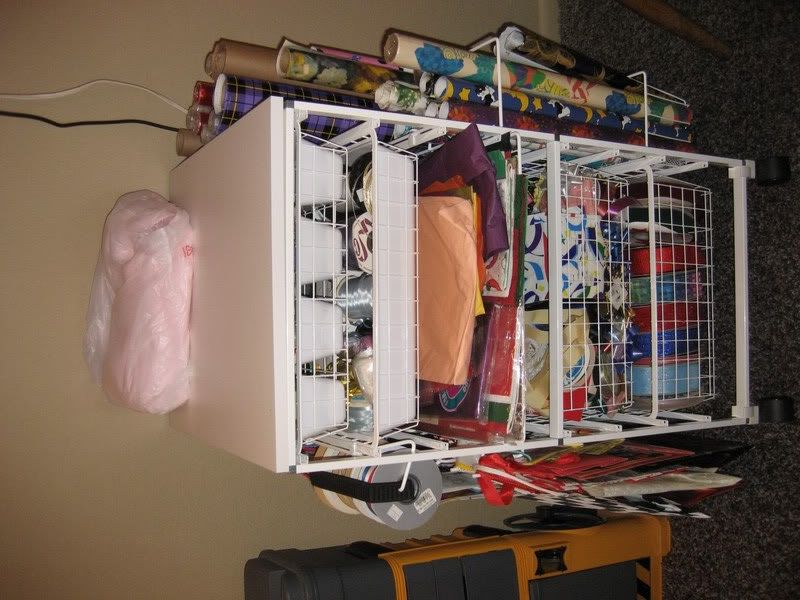 wrapping cart - bag on top is package to be wrapped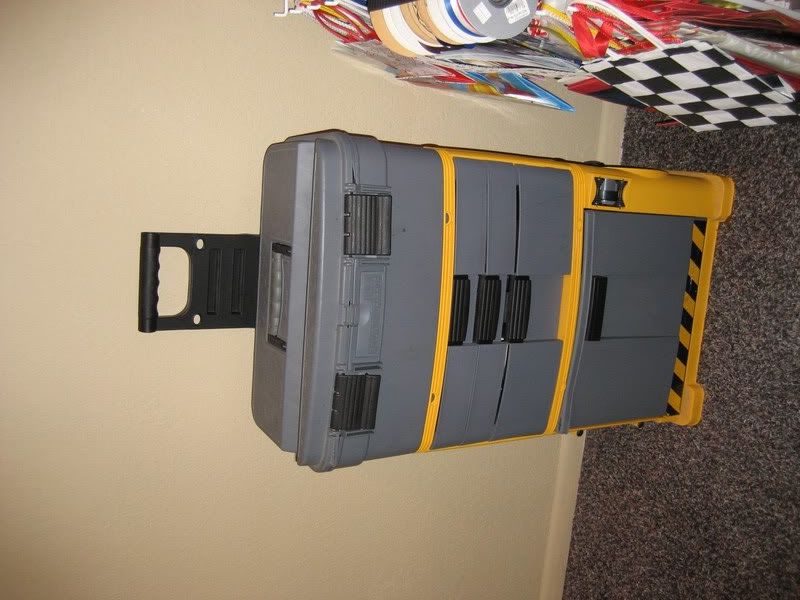 sewing cart


We painted the walls "toasty tan" and the door "october orange". I had the funky retro fabric in my stash. It was purchased to be curtains for a VW Westy Camper at one time, but I think it was supposed to go in my room. I love the tan, orange, green and turquoise together. SO me.
While I hope I win a prize, I know I already have the best prize I could receive. I have a functional, clean, organized and very happy space. It's a great place to spend the little bits of free time I blessed with. I feel more creative already.