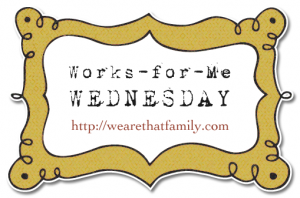 We have two dishwashers. How it came to be is not a very interesting story, but for the record I know how fortunate I am. I count them as two of my many blessings. Two dishwashers can contribute to confusion though... which one is clean? which one is dirty? etc.
Poor people with only one dishwasher struggle with this too I'm sure. It's just a double problem for our home.
I've seen those ugly CLEAN/DIRTY magnets. There had to be another way. I looked to our refrigerator and found our repro Duke Kahanamoku magnets. Duke's the Ambassador of Surfing don'tcha know. Combine that with my handy, dandy label maker and voila! Problem solved!
Since I used different wording on each of them, I decided to keep the meanings consistent. If the dishwasher is clean - Duke is upright happily catching a ride. If the dishwasher is dirty - He's wiped out.
It's silly, but it works for me.
Find out what works for hundreds of women all over the world.
Kristen, part of THAT family
hosts
Works for Me Wednesday
every week.
Here are some of my favorite Works for Me posts this week...
Easy Kitchen Banner from the Dollar Store
@ Trent Tribe.
8 High Quality Free Math Websites
@ Maths Insider
Pillow Case Bag
@ Living My Life on Purpose (tutorial)
Gift for Spouse - A Year of Dates
@ Adventures in Mommydom
Be a More Patient Mom in Just 24 Hours
@ Inspired to Action
Recycling Orange Peels
@ Frugal Homemaking
Hybrid School
@ The Inspired Page