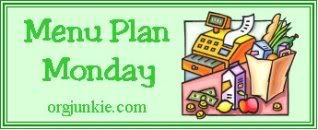 Monday
~Marvelous Monday~
Chicken & Dumplings
Green Salad
Tuesday
LO Tri Tip Sandwiches
Potato Salad
Wednesday
~Passover~
Thursday
C.O.R.D.
(clean out refrigerator dinner)
Friday
~Good Friday screening of The Passion of The Christ~
Calzone
Green Salad
Saturday
???
Sunday
~Easter~
~Family Dinner~
my folks cook
It's a really busy week. For Passover on Wednesday, I'm coordinating the food service (fortunately the food is catered), the elements and the making of about 250 pieces of flatbread. Friday night is another event - I'm helping with kids. And then Easter Sunday will start super early and be an all day celebration of the resurrection of Jesus! If that weren't enough... we are starting a remodeling project the day after Easter and Surferman and I need to have our bedroom cleared out and our stuff moved into a guest room by then. Oh.. and there might be a trip to SoCal thrown in. And... Grom is off school for Spring Break.
I'm joining the crowd at
Laura's Menu Plan Monday
. Go check out some other menu plans.