FOR TODAY ... JUNE 23, 2008
Outside My Window... darkness.  It's been a busy day.  This is the first "me" computer time I've had all day. 
I am thinking... whatever is true, whatever is noble, whatever is right, whatever is pure, whatever is lovely, whatever is admirable—if anything is excellent or praiseworthy—think about such things. I'm feeling sad, angry, hurt, confused and more about something.  I want to trust God.  I want to understand. 
I am thankful for... My husband.  He was away this weekend visiting his father.  It's good to have him home.
From the kitchen... Surferman grilled up 4 packages of boneless skinless chicken breasts tonight.  He cooked them perfectly.  They are so juicy.  We'll have some of them for dinner the next few days and the rest went to the freezer for quick meals later.  I bought pectin today to make some freezer strawberry jam.
I am wearing... the usual.  Black cargo capris, light pink V-neck t-shirt, black flip flops and a beautiful pony bead bracelet Grom made for me last week.
I am creating... postcards for a swap with the Five in a Row ladies.  We started receiving postcards and are having fun finding where they came from on a US map.
I am going... to try to get to bed early and I am getting up early to read my Bible tomorrow morning.
I am hoping... for a quiet, uneventful week at church.  My pastors are all out of town.
I am hearing... silence, sweet silence.
Around the house... clutter, clutter and more clutter.  I have to do something about all of this stuff.  It's driving me crazy.
One of my favorite things... the smell of a freshly bathed Grom
A Few Plans For The Rest Of The Week: I want to get my family out for an evening of Bocce.
Here is picture thought I am sharing...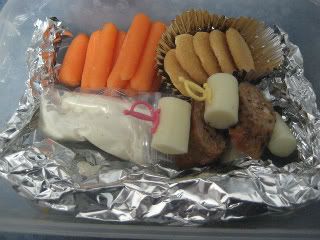 I've been reading a great
Bento Blog
for a while.  I'm inspired.  Biggie assembles the most beautiful lunches and shares them regularly.  Her preschooler seems to eat anything and everything.  I can only aspire.  Here's what I came up with for Grom tomorrow - carrots with ranch dressing, herb breadstick (wrapped in foil), sausage and cheese swords and nilla wafers.  He'll get some leftover fruit salad in a separate container.