Merry Christmas! Here's the good, the bad and the ugly of our Christmas 2007. Also my plans to improve next year. No particular order.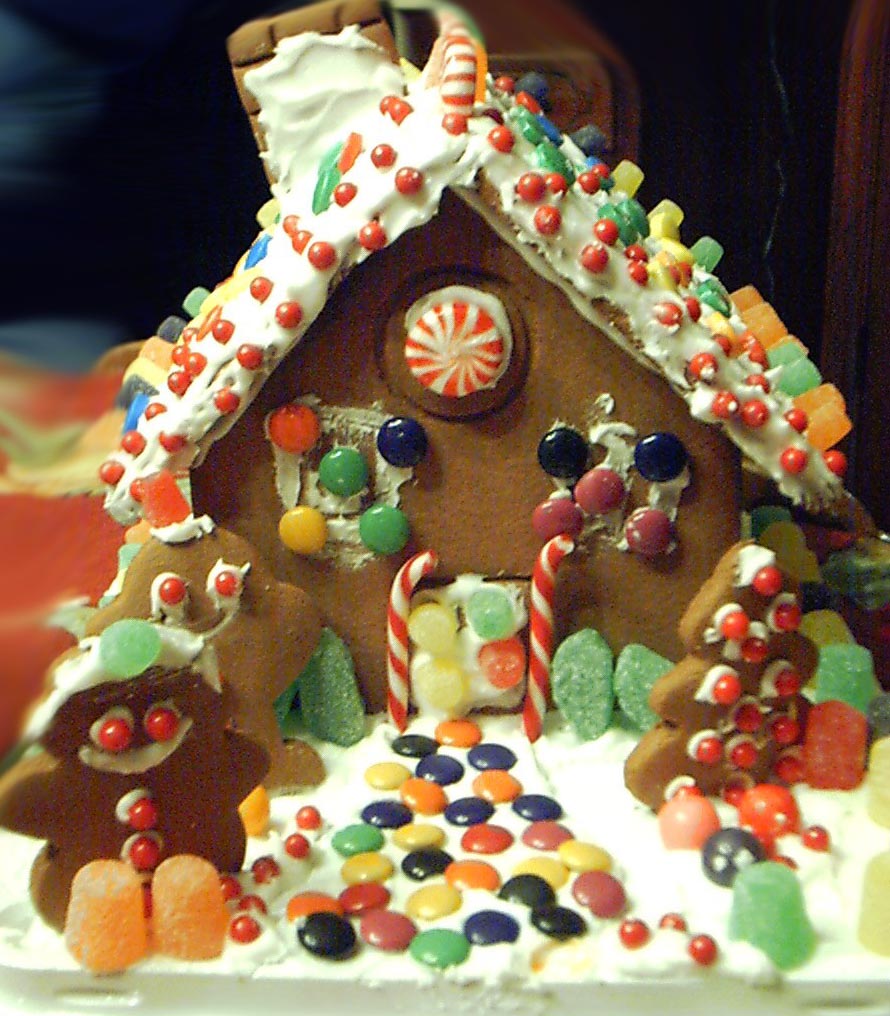 GOOD! - Gingerbread House kit from Costco. Inexpensive. Everything is included. Box lid forms the base for the house so it's easy to assemble. Grom, Surferman and I had a great time decorating it. Grom and Surferman had fun snatching candy off the house thinking Mom didn't know what was going on. And the candy doesn't tempt me (much).
Next year - no changes.
BAD! - No Christmas Card. I blame my computer switch around Thanksgiving, but truth be told I don't think I've ever had a Christmas card go out on time. One year I sent 3 years worth of letters at once. I manage to get the letters done, but not sent.
Next year - Order Christmas card by October 15th. Mail at Thanksgiving.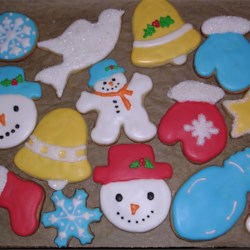 GREAT! - Grom and I made and decorated sugar cookies.
The Best Rolled Sugar Cookies
and
Sugar Cookie Icing
were foolproof and delicious. These were the best sugar cookies I've ever made. Mixing the dough was fun. Rolling was challenging as Grom wanted to help more than I wanted him to. I rolled and baked the dough on parchment paper. The parchment paper made it easier and faster. When the cookies came out of the oven I slid the paper off the cookie sheet and onto the counter to cool. We made stars, hearts, Jesus stars, Christmas trees and BIG hearts. Icing and decorating the cookies was a lot of fun and went better than I expected. After my frustration with rolling the cookies, I decided I needed more control over the decorating if I was going to keep my hair. We did the cookies by type and kept the decorations simple. All of the Christmas trees were green with multicolored dot sprinkles. All of the stars were white with multicolored sugar sprinkles. Etc. The big hearts we glazed white and after they were dried I used a food marker to write "Happy Birthday Jesus" on them.
Next year - Roll and cut one sheet of cookies with Grom right before naptime (I realize I'm dreaming that a 4 1/2 year old will still be napping, but a girl can dream right?). Do the rest of the cookies while he's occupied.
BAD! - Advent Calendar from Trader Joe's. The calendar wasn't bad. I was just out of my mind when we started it. I had the brilliant idea to start the calendar with the highest number and move down (as a sort of countdown). But if you forget (and how Grom forgot to get me to give him chocolate is beyond me), you have to try to figure out how many doors you have to open to catch up and it's all backwards. If you're confused reading this, I'm sure you'll understand the confusion. The best part of being forgetful with the advent calendar is that we had a couple of days where Grom was able to share candy around the house. The joy we experienced with him sharing made it all good.
Next year - I plan to do a Jesse Tree and use that to countdown the days until Jesus' Birthday. My friend Stacey is going to organize an ornament exchange, so we should have beautiful, wonderful ornaments to display. I'm going to look for a little tree when I shop Target tomorrow morning.


OK! - We went to Christmas Eve service at my parent's church. It was a very nice service, but it wasn't our church and I missed my "family".
Next year - I hope to be able to attend service at our church.


GREAT! - For family Christmas gifts, Surferman and I agreed on 3 gifts each. One to wear. One to consume. One for fun. We budgeted and did very well at using only money we had set aside. Surferman turned all the change in his mug into a Starbucks card for me. Lattes are on me for quite a while.
Next year - No changes except to shop more throughout the year.
GOOD! - Our family tradition for stockings is that we each buy 2 items for everyones stocking. Grom and Gigi buy one item. Our stocking are great fun. We had some last minute racing around.
Next year - Collect stocking stuffers throughout the year. When I'm out somewhere and see something that would be great for brother-in-law I'm going to buy it.


BAD! - We never made it out to look at Christmas lights.
Next year - Set a date early and make a night of it.
GREAT! - I made some more cloth gift bags. I bought the fabric on sale last year. I didn't wrap a single present in paper! All reusable.
Next year - I have quite a stash. I think I can get away without making anymore next year.
BAD! - No caroling. No visiting neighbors.
Next year - Make cookies earlier and take them to our neighbors with invitations to Christmas Eve Service. Not sure what to do about the caroling, but maybe friends with kids would like to go early one evening. Caroling with church was a little late for us.


GREAT! - Grom and I rang a bell for the Salvation Army with a friend and her boy (Grom's buddy). We did it right after Thanksgiving. It helped jump start my Christmas spirit and also set us out helping others rather than focusing on yourself. Plus, after whenever we saw someone ringing bells and collecting money for the Salvation Army afterward, Grom and I had a memory to share and another opportunity to talk about helping others. I don't think I've given so much change ever to the Salvation Army. In our community, the Salvation Army is the first stop for people in need.
Next year - I want to encourage my friends with kids to take some time and ring a bell. I'm also going to encourage the volunteer who schedules ringers to consider one hour shifts for moms and kids.
GREAT! - I didn't know how Santa was going to play out in our house. I knew I didn't want Grom thinking Santa was a real person who was going to bring him presents, but I also didn't want to kill Santa either. We let him be a fun thing that is a part of celebrating Christmas, the birth of Jesus. Grom had a couple of funny conversations with Mimi (my paternal grandmother). She asked him if he had made his Christmas list for Santa yet and he asked why - like why would Santa bring him anything. And then today, she asked him if Santa had been here and he said, "No, but he's coming to town".
Grom and I have had some great conversations about Jesus during this season. His questions make me think, make me appreciate all that Jesus did for me, make me appreciate my God who would humble himself and come to the world as a helpless baby just for me (and you too!).
Next year - I want to read more stories with Grom about Christmas and look into some of the ways Christians celebrate Christmas in other parts of the world.


I'm sure there could be more...